About OP3
The District of Columbia Office of Public-Private Partnerships (OP3) is charged with building collaborations between the private sector and District government to complete major infrastructure projects and other programs through long-term, performance-based procurements commonly referred to as public-private partnerships, or P3s.
Explore this website to learn more about OP3's efforts, sign-up for periodic updates, or contact us for more information.
Sign up for Email Updates
Latest
Learn more about how the Office plans to help close DC's infrastructure gap at Next City.
The OP3 told Paul Jarvis about some big plans for the nation's capital.
Office of Public-Private Partnerships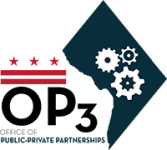 Office Hours
8 am to 5 pm
Connect With Us
John A. Wilson Building
1350 Pennsylvania Avenue, NW, 533, Washington, DC 20004
Phone: (202) 724-5545
Email:
[email protected]