Kathryn Roos
Interim Director
Kathryn Roos most recently served as the Public-Private Partnership (P3) Manager and Streetlight Manager for the District of Columbia's Department of Transportation (DDOT). In addition to providing strategic management and operational oversight for the District's first P3, a multi-million dollar contract to convert the District's 75,000 streetlights to LED, Kathryn worked on the development of additional P3 opportunities within DDOT.

Prior to her work in D.C., Kathryn served as Chief of Staff to Mayor Pete Buttigieg in South Bend, IN where she oversaw operations for the city and served as direct liaison for all department heads. In addition, Kathryn provided strategic guidance in the development and implementation of major policy initiatives, including numerous economic development deals, the Vacant and Abandoned Properties initiative, and the Smart Streets program.

Kathryn holds a Master's of Public Administration from the Kennedy School of Government at Harvard University and a Bachelor's of Architecture from the University of Notre Dame. Previously, Kathryn worked for the architecture firm Porphyrios Associates in London. As a trained classical architect and urbanist, Kathryn is passionate about cities and improving communities by fostering partnerships at the intersection of government and the built environment. She currently serves on the boards of Amplify Civic Advisors and the Harvard Kennedy School Women's Network.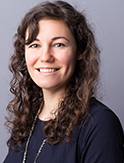 Anna Shapiro
Director of Projects
Anna Shapiro was previously a Project Manager for four years in The Office of the Deputy Mayor for Planning and Economic Development (DMPED), where she managed the disposition and redevelopment of large scale publically owned properties and the redevelopment of public facilities. Her projects included the West End Parcels (including Engine 1 and West End Library), the former Hine Junior High School, Parcel 42, Stevens School, and Poplar Point. Prior to joining DMPED, Anna was in the Housing Regulation Administration at the DC Department of Housing and Community Development (DHCD), where she managed the day to day administration of the Affordable Dwelling Unit (ADU) program and the Inclusionary Zoning (IZ) program. Anna received her Master's in City Planning from the University of Pennsylvania, with a focus on Urban Redevelopment and Real Estate. While in Philadelphia, she worked for an affordable housing development consultant and an economic development non-profit. She began her career in interior architectural design and construction management after receiving a Bachelor of Arts in Architecture from Washington University in St. Louis.
Darien Pusey
Project Specialist
Darien Pusey is the newest member of the Office of Public-Private Partnerships, bringing a background in policy, sustainability and community engagement. He has done extensive research on environmental policy and sustainable infrastructure from both his studies at the University of Maryland, College Park as an Environmental Science and Policy major and his past experience working with the District Department of Energy and Environment (DOEE); where he assisted in the coordination of DOEE's Green Zone Environmental Program (GZEP). As a native of Washington DC area, Darien believes that implementing P3's in the District to not only a good way to improve city infrastructure, but also a path to make our nation's Capital more sustainable and efficient in the process. Darien received his B.S. in Environmental Science and Policy with a concentration in Politics and Policy from the University of Maryland and is currently pursuing his Master's degree in Public Administration and Policy at American University.
Trevor Langan
Capital City Fellow
Trevor Langan is completing his second of three six-month rotations with OP3 as a Mayor's Capital City Fellow. His first rotation was in the Office of City Administrator, working with the Government Operations cluster. Before coming to the District, Trevor worked at the National League of Cities as a Research Associate, delivering best practices and technical assistance to the nation's 19,000 municipalities. Trevor earned both his Master of Public Administration and Bachelor of Arts in Political Science degrees from American University in Washington, DC.